Welcome to the Laboratory of Shujie Yang, PhD
Uterine endometrial cancer incidence (~63,200 new cases/year) and deaths (~11,300 deaths/year) are on the rise. This tumor type is exquisitely sensitive to the growth promoting effects of estrogen and the growth limiting effects of progesterone. Hormone therapy using progesterone or synthetic analogues, progestin, for endometrial cancer has been a traditional choice for treatment by inducing differentiation, promoting apoptosis, and inhibiting invasion. It is highly effective in the short term; however, responsiveness wanes over time due to loss of progesterone receptor (PR) expression, and recurrences are common.
Contact Information
Phone: 319-335-7579
5234 Medical Education Research Facility (MERF)
Education/Training Program Affiliations
Cancer Biology Graduate Program, Department of Pathology Graduate Program, Interdisciplinary Graduate Program in Molecular Medicine
Center, Program and Institute Affiliations
Member - Holden Comprehensive Cancer Center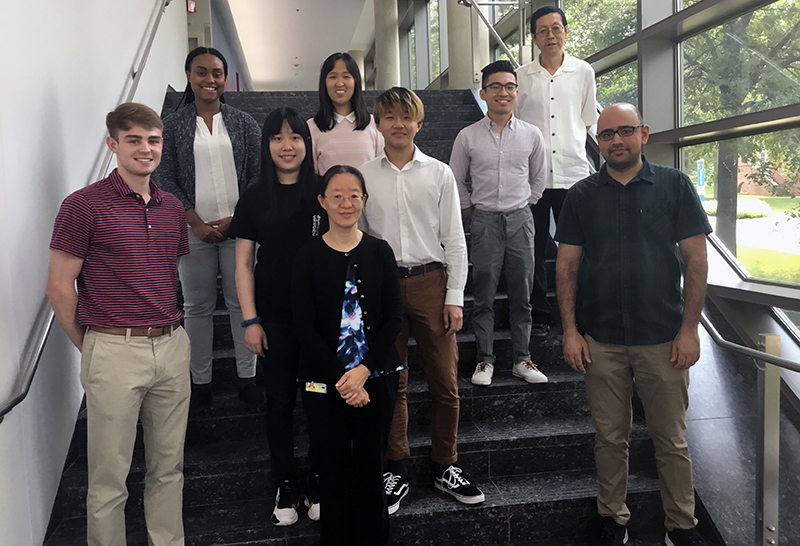 Front Row: Matthew Wells, Shujie Yang and Kiarash Salari. Second Row: Tianyue Li and Jason Gao. Third Row: Sarina Murray, Amanda Qi and Sean Gomendoza.